Baloo

Franchise
The Jungle Book
Model
INF-1000302
Costume
Baloo Costume
Voiced by
Joel McCreary
Combat
Ranged
Special Move
Jungle Boogie
"
This swingin' bear knows how to roll with the crazy jungle beat.
"
--Hall of Heroes statue inscription
Baloo is a character from the Walt Disney Pictures The Jungle Book movie. He may be used in:
Teased in a tweet by John Vignocchi on January 8, 2016,[1] fans had feelings there would be a representative from The Jungle Book due to the new live-action film coming out April 2016.[2] He was leaked on January 16, 2016 on the website of New York City-based photo and video equipment store, B&H Photo Video, and was released on March 15, 2016. Along with this leak, there was also an up close view of the previously rumored Vision, Ant-Man and Black Panther, as well as Black Suit Spider-Man.
Like many of the new characters, Baloo requires an Internet connection, allowing an update for the game to be installed on the player's system so he can be playable.
Abilities
Baloo's basic attack is to slash his his claws and a hit them with his hip. His ranged skill is throwing fruits ranging between Banana bunches, Coconuts, Watermelons, and Pineapples. He can also repel enemies with a roar. His combos include bashing foes with a club and a belly bounce. His finisher is hitting his opponent with a palm tree. His special move makes him dance, and can damage enemies by bumping into them.
Development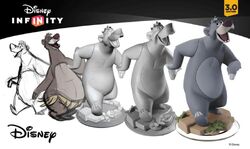 Baloo was only one of several Jungle Book characters which the Disney Infinity team considered for inclusion in the games. They also considered Mowgli and King Louie, but ultimately scrapped them both. They did not feel as though Mowgli would be very fun to play as since in the movie he depended on Baloo and Baghera for survival, and while they liked the idea of playing as Louie, he was a relatively minor character in the movie. In the end, they felt that Baloo would be the best option, being a strong, two-legged character who was central to the plot of the movie.[3]
The team went back and forth for some time about whether they wanted to make the classic animated version of Baloo or the version from Jon Favreau's live-action remake of the movie. They made concept art of both versions, but ultimately decided to make the classic version because, as Jeff Bunker explained, "...our community is constantly banging that drum. They want more of the 'vault characters.' So it was finally decided that this was the perfect opportunity to make those fans happy." They also had very little to go on with the live-action version (other than very early concept art) due to the fact that it was very early on in development at the time.[3]
Quotes
For more quotes from this character, see Baloo/Quotes.
Well, hey now. It's good to meet ya! You just hang on and old Baloo's gonna show ya how it's done.
Ain't nobody gonna keep ol' Baloo down!
Awww, I weaved when I should have bobbed.
Trivia
When playing with the Chill in the Air sky, Baloo's banana bunches will have a frosted appearance to them. However, upon contact with an obstacle or enemy they will return to their normal color.
Gallery
For more game related media, see Baloo/Gallery.
References
Community content is available under
CC-BY-SA
unless otherwise noted.