Cars Play Set

Game Type
Play Set Game
Model
INF-2000003
Genre
Combat
Studio
Pixar
Franchise
Cars
Figures
Lightning McQueen, Holley Shiftwell, Mater, Francesco Bernoulli
Cast Members
Luigi, Guido, Finn McMissile, Chick Hicks, Ramone, Flo, Fillmore, Pace Car
Packs & Tools
Vehicle Weapons
Mounts
None
Vehicles
None
Customization
Carburetor County, Radiator Springs Sky, Radiator Springs Storm Sky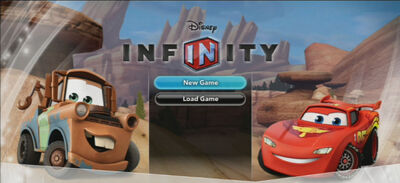 Race to Radiator Springs to help Lightning, Holley, Mater and Francesco prepare for an International Race Invitational. But watch out! Chick Hicks is about to put the skids on everything. Get in gear with our heroes plus Finn McMissile, Fillmore, Ramone and Flo and stop Chick in his tracks!

The Cars Play Set was released on August 18th, 2013, and is based on the Pixar movie Cars and its sequel. The play set takes place in Radiator Springs after the events of Cars 2.
You are able to play as Lightning McQueen, Mater, Holley, Francesco. Finn McMissile, Luigi, Fillmore, Ramone, Flo, Guido, The King, Shu Todoroki, Carla Veloso, the tractors, and an unnamed Crane appear in this play set. Chick Hicks is the antagonist.
Characters
Playable Characters
Non-Playable Characters
Mission Givers
Other Characters
Locations
Trivia
Gallery
For more game related media, see Cars Play Set/Gallery.
Community content is available under
CC-BY-SA
unless otherwise noted.