Texture Sets allow players to customize various elements of the Toy Box. Some are provided by default, some can be unlocked via the Toy Store or during game play, and others are accessed via Power Discs. They can also be paired with Skydomes and other items to create Themes. Customizable elements include:
Terrain Blocks[1]
Rail Slide Pieces
Suburb Pieces
Ledge Hang Pieces
Blocks
When a Theme Change Power Disc (aka Texture Disc) is placed on the Disney Infinity Base, the game will prompt the player to confirm whether they wish to re-theme the entire Toy Box. Selecting "Yes" will apply the Texture to all applicable items, which can save a considerable amount of time.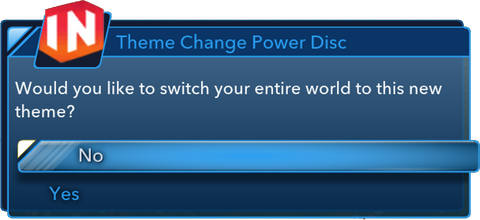 In Disney Infinity 3.0, a Creativi-Toy called the "Theme Transformer" may be used to change these elements on Toy Box load or even during game play. There is also a "Cluster Customization Palette" Template that can be placed in the Toy Box, containing a number of Track Pieces and theme-able Decorations, which may be used to provide an example of how a particular Texture may affect the appearance of the Toy Box.
Trivia
While not yet all represented below, it is estimated that there are a total of 56 different Texture Sets available in Disney Infinity 3.0: 30 internal that may be selected via the Theme Transformer, and another 26 that require a corresponding Hexagonal Power Disc.
Note that Disney Infinity appears to refer to these as "Themes", not "Textures".
References
↑

These can be found in the Editor under the "Decorations" category in the "Clusters" subcategory.
Trending pages
All items (46)