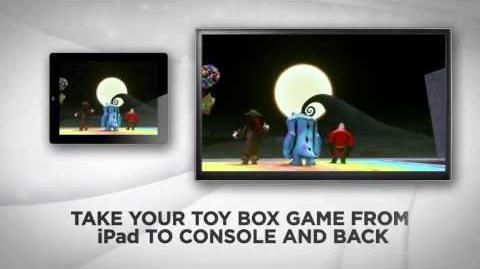 Disney Infinity: Toy Box is a free app which allows you to sync your game of Disney INFINITY on the console with the app, letting you build your Toy Box on Windows or the iPad while on the go and transfer it to the game. The Mastery Adventures and several regular adventures are available in the app to unlock via in app purchase or gameplay as well. The Windows version of the game supports Xbox Achievements with 11 worth 200 points.
Current Characters
Crystal Mr. Incredible
Crystal Sulley
Crystal Captain Jack Sparrow
Crystal Buzz Lightyear
Crystal Agent P
Crystal Lightning McQueen
Crystal Lone Ranger
Crystal Sorcerer's Apprentice Mickey Mouse
Trivia
Buzz Lightyear has a third figure that is called Glow-in-the Dark Buzz Lightyear, the other two is the original Buzz Lightyear figure and the crystal version of Buzz Lightyear. Glow-in-the Dark Buzz Lightyear is only available on PC and iPad.
Gallery
For more game related media, see Disney Infinity: Toy Box/Gallery.
External links