Escape from the Kyln

Game Type
Toy Box Game
Model
INF-2000104
Genre
Dungeon Adventure
Studio
Marvel
Franchise
Guardians of the Galaxy
Figures
Any Disney Infinity 2.0 Marvel Super Heroes figure
Enemies
Frost Giants, Symbiotes, Sakaaran, Short Ranged Drone, Kamikaze Drone, Knowhere Omni-Blaster Turret, Sakaaran Omni-Blaster Turret, Sakaaran Omni-Missile Turret
Customization
Asgardian Sky, The Golden Realm of Asgard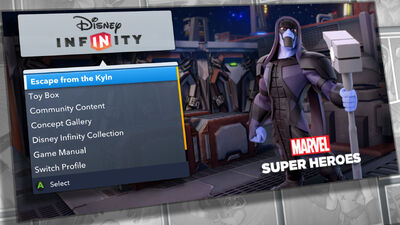 Escape from the Kyln is a Dungeon Adventure type Toy Box Game based on Guardians of the Galaxy, and is available in the Disney Infinity 2.0 Starter Pack. All Marvel Super Heroes figures and their abilities can be used.
Description
In Guardians of the Galaxy, The Kyln is the prison that Star-Lord, Gamora, Groot, and Rocket Raccoon are held in before they escape with Drax. Ronan also appears at the Kyln in the movie, which may explain why he is on the Toy Box Game disc.
An additional feature in Escape from the Kyln is the ability to recruit Sidekicks, which help players defeat enemies, find treasures, and trigger actions.
The gameplay style is similar to Brave Forest Siege, which also includes the ability to recruit Sidekicks.
Trivia
The image of Ronan on the disc is of his concept art rather than his in-game model. This was probably done so that Ronan would not be revealed as being playable before his official announcement, as Escape from the Kyln was revealed before Ronan was.
Gallery
For more game related media, see Escape from the Kyln/Gallery.
Community content is available under
CC-BY-SA
unless otherwise noted.