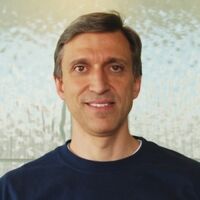 "You know, we're dealing with the most popular characters in the world, and to be able to work with the creators of those characters and come up with a style and a look for their characters that they're happy with and that we know the fans are gonna love, it's been really fun."
-Jeff Bunker, in a 2013 interview with FamilyGamerTV.[1]
Jeff Bunker is the former art director of Avalanche Software (a position he held for over twenty years)[2][3] and the former creative director of the Disney Infinity series.[1] His job was to oversee the overall design of the game and its accompanying Figures and make sure everything belonged to the same unifying "Infinitized" art style.[4][1] He stayed with the company until it closed its doors in 2016.
Early Life
Bunker was born in Utah, and studied illustration at Brigham Young University in Provo.[5] He started his career as an artist at Saffire in Pleasant Grove before being promoted to the art director after one year. One year after his promotion, he became the art director of Avalanche Software, and held the position from 1997 until the studio closed its doors in 2016.[3] Among the games he worked on for Disney are Cars 2: The Video Game, Meet the Robinsons: The Video Game, Chicken Little: The Video Game and its sequel Chicken Little: Ace in Action, and Disney Infinity's spiritual predecessor Toy Story 3: The Video Game.[6]
Gallery
References
↑ 1.0 1.1 1.2 http://www.forbes.com/sites/andyrobertson/2013/06/28/disney-infinitys-toys/#98c974e7b22b
↑ http://comicvine.gamespot.com/articles/jeff-bunker-talks-character-design-and-sculpts-for/1100-153396/
↑ http://www.deseretnews.com/article/865635495/Utah-company-brings-Disney-characters-to-digital-life.html
Community content is available under
CC-BY-SA
unless otherwise noted.