"I mean, our bench is deep, bro!"
-John Vignocchi, in an interview with GameInformer, referring to the potential Playable Characters that could be added to the games.[1]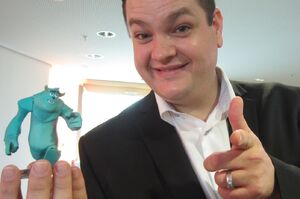 John Vignocchi
is an executive producer at
Disney Interactive Studios
. He has helped produce
Disney Infinity
. He also hosts
Toy Box TV
along with
Allison Petrek
, except in the 40th, 41st and 42nd episodes due to being on the road doing some stuff for the future of the game series, where he is replaced by
Patrick Efird
, and is absent in the 53rd episode due to having a meeting with
Marvel
team members in New York City at the time of the January 2015 nor'easter. He is also absent in the 76th episode due to being present at the San Diego Comic-Con International, as well as being taken over by
Justin Asilo
in the 85th episode because of not feeling well.
Gallery
For more game related media, see John Vignocchi/Gallery.
References
Community content is available under
CC-BY-SA
unless otherwise noted.