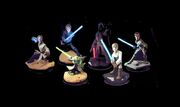 The Light FX series is a set of Star Wars figures, whose lightsabers light up when placed on the Disney Infinity Base. They were announced at 2015 D23 Expo and were later released around the holidays of 2015.[1] They cost $1 more, selling for $14.99. [2] So far, 6 characters have been revealed to have a Light FX figure. The exact release date and if anymore figures will come, is currently unknown at this point. However, a leak on September 10, 2015 showed Target posting a release date for Yoda on December 1, 2015. [3] This was later offically confirmed by the Director of Retail Operations and Finance on October 19, 2015. He also confirmed they will be permanent retail exclusives.
On March 12, 2016, Disney Infinity offically announced that Kylo Ren would be a Light FX Figure as well. He will be released on April 5, 2016 to all retailers in North America and exclusively to GAME in the UK.
Confirmed Figures
Trivia
Ezra Bridger is the only single wielding lightsaber character without a Light FX figure besides Ahsoka Tano and Darth Maul, who have technological restrictions preventing them from being made.
If you have a Light FX figure, the character's lightsaber appears on their statue's base.
References
↑ http://infinityinquirer.com/2015/08/25/disney-infinity-star-wars-light-fx-figures-only-to-cost-1-more-other-tidbits/
Community content is available under
CC-BY-SA
unless otherwise noted.