Lone Ranger Play Set

Game Type
Play Set Game
Model
INF-2000002
Genre
Combat
Studio
Walt Disney Pictures
Franchise
The Lone Ranger
Figures
Lone Ranger, Tonto
Cast Members
Red Harrington, Sheriff, Engineer
Enemies
Bandits, Butch Cavendish (boss)
Packs & Tools
TNT Pack, Crow Wing Pack, Thundering Hooves Pack, Silent Warrior Pack
Mounts
Silver, Scout, Mule, Elephant, Thundering Stallion, Palomino, Black Horse, Chestnut Horse, Golden Horse, Brown Pinto, Black Pinto
Vehicles
Stage Coach, Train Engine
Customization
Colby Sky, Desert Landscape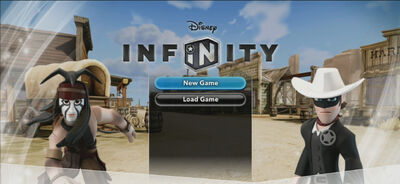 In the Lone Ranger Play Set Game, join the Lone Ranger and Tonto on a daring adventure to fight the villainous Butch Cavendish and his gang who are terrorizing the town of Colby.

It was released on August 18th at launch, and includes the Lone Ranger and Tonto character figures, as well as the Game Piece necessary to access the Play Set.
Gameplay
The set also opens up some interesting gameplay options, including Ricochet Combat, which lets the Lone Ranger and Tonto hit bad guys indirectly, bouncing bullets off metal objects in the environment. Horses will also come with the set, including the Lone Ranger and Tonto's horses, Silver and Scout. Furthermore, the set will even let players customize their own train, which plays a big part in the set.
Story
The Cavendish Gang of Bandits has invaded Colby, and you are tasked with the mission of saving the town from them, along with a traveling camp of merchants (headed by Red Harrington) and a railroad worker's camp. This is usually accomplished by loading your train with commodities like lumber, water, cattle, and TNT. The end of the story is a face-off with the Cavendish gang in an abandoned silver mine in the mountains.
Missions
Savin' Colby
Soakin' the Saloon
Buildin' Relationships
Roundin' 'Em Up
Target Practice
Missing Her Man
Damsel in This Dress
Clearin' the Rails
Trainin' Day
Ranch Hand
Liberatin' the Tower
Rarin' to Go
Railroad Switch
Characters
Playable Characters
As per all play sets, only characters from the series the play set is from can be played in it.
Non-Playable Characters
Mission Givers
Enemies
Trivia
The background on the packaging hinted that there would be a train in this play set.
There is a day-night cycle.
Gallery
For more game related media, see Lone Ranger Play Set/Gallery.
Community content is available under
CC-BY-SA
unless otherwise noted.