Marvel's Spider-Man Play Set

Game Type
Play Set Game
Model
INF-2000101
Genre
Combat
Studio
Marvel
Franchise
Spider-Man
Figures
Spider-Man, Nova, Iron Fist, Nick Fury, Venom, Green Goblin, Iron Man (crossover character), Hulk (crossover character)
Cast Members
White Tiger, Luke Cage, Black Cat, Captain Marvel
Enemies
Symbiotes, Green Goblin Drones, Green Goblin (boss), Mysterio (boss)
Packs & Tools
Green Goblin's Impact Grenade
Mounts
Police Horse
Vehicles
Sky-Cycle, S.H.I.E.L.D. Hovercar, Green Goblin's Glider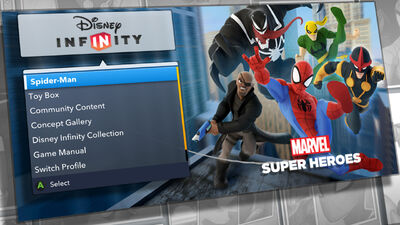 Swing into action with Spidey and save New York City from the toughest villains!

Marvel's Spider-Man Play Set is a Play Set that is sold separately for Disney Infinity 2.0, and is based on the Spider-Man comics.
Characters
Playable characters
Non-Playable Characters
Mission Givers
Enemies
Other Characters
Challenges
Nova Saves the Day
City Web Race
Ring the City
Race Gate Challenge
Rooftop Rings
Bridge Rings
Right on Target
Crawl and Collect
Combo Crawl
Wallopin' Wall Crawlers
Hover Car Race
Ring Run
Sonic Weaponry
Rat Trap
Furious Frenzy
Trivia
The Play Set Piece is the Spider-Man logo getting taken over by the Symbiote.
In the official trailer for the play set, some characters were seen riding both the Spider-Cycle and the Spider-Glider. This would seem to imply that the two Vehicles were both at one point supposed to be unlocked from inside the play set before they became Power Discs.
The playset and the Avenger's playset are both set in New York City.
Gallery
For more game related media, see Marvel's Spider-Man Play Set/Gallery.