Monsters University Play Set

Game Type
Play Set Game
Model
INF-2000001
Genre
Combat
Studio
Pixar
Franchise
Monsters, Inc.
Figures
Sulley, Mike, Randy
Enemies
Fear Tech Students
Packs & Tools
Toilet Paper Launcher, Paintball Gun, Cracklin' Backpack, Sludge Balloon, Glow Urchin
Mounts
Archie the Scare Pig
Vehicles
Beastly Bicycle
Customization
Monsters University Campus, Monsters University Sky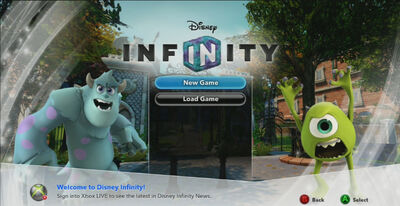 Join Sulley, Mike, and Randy in their early student days. Raid the rival Fear Tech campus, compete in the Scare Games, ride a bike around Frat Row, have a paint ball battle, or rig some pranks on campus for unsuspecting fellow students.

The Monsters University Play Set is one of three Play Set Games available with the Game Piece from the Disney Infinity 1.0 Starter Pack.[1] It was released on August 18th at launch. The core mechanic of this play set is the pranking system in which Sulley, Mike, and Randy are tasked with pranking the monsters of Fear Tech. This set includes the Beastly Bicycle and its variants, and Archie the Scare Pig.
Story
One can play as Sulley, Mike and/or Randy, who are students at Monsters University. The rival school Fear Tech has come over to Monsters University and pranked the school, and those pranks are going back and forth between the two schools. After Fear Tech has pranked the school, you are tasked with cleaning toilet paper, banners and pranks in the area. In daytime, you can also hang out with other students and have some fun. However, at nighttime, you go to Fear Tech and vandalize it with your own Toilet Paper Launcher and hang banners while avoiding security guards. You can also visit Fear Tech during the day, or you stay at your own campus and defend it from the Fear Tech students.
Characters
Playable Characters
As per all play sets, only the characters from the series the play set is from can be played in it.
Non-Playable Characters
Mission Givers
Enemies
Locations
The following are the specific locations that can be visited within the play set:
Trivia
Gallery
For more game related media, see Monsters University Play Set/Gallery.
References
Community content is available under
CC-BY-SA
unless otherwise noted.