Toy Box Speedway

Game Type
Toy Box Expansion Game
Model
INF-2000206
Genre
Race
Studio
Franchise
Disney Infinity
Figures
All Disney Infinity Character Figures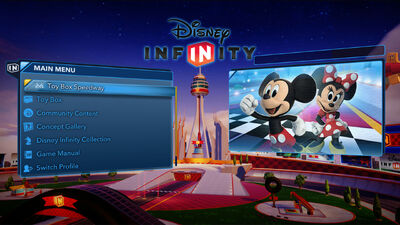 Toy Box Speedway is one of two Toy Box Expansion Games in Disney Infinity 3.0. It was released on October 13th, 2015 and in some countries October 23rd 2015.[1] The game is sold separately from the other Disney Infinity games, packaged by itself.[2]
It is a racing game, similar to the races in the Cars Play Set, as well as the Mario Kart game series.[3][4] Any character may enter it.[5] The game is sold individually for $19.99 in the U.S.[6]
Premise
Toy Box Speedway is a racing game heavily inspired by Mario Kart, but with Disney's characters and Ground Vehicles. The player is allowed to choose any playable Disney Infinity character and any Disney Infinity Ground Vehicle they choose to participate in a race, which takes place on one or more Disney-themed tracks.[3]
Game Hub
The game's hub is modeled on a stunt arena, where the player can simply show off and do tricks.[4] There are four Disney Infinity Carts ready for selection, as well as two Vehicle Summoner pads where a player may select from any Ground Vehicle they've unlocked for the Toy Box. Any Ground Vehicle Power Disc from any edition of Disney Infinity may also be used.[7] There is also a Host which can be interacted with for a brief tutorial on driving a Ground Vehicle.
Racing Modes
There are several racing modes:
Race, which involves a simple race through a given course,
Battle Race, which allows the use of Vehicle Weapons,
Time Trial, which allows a player to compete against their best time, and
Each mode first asks players to select their engine size, which affects their Ground Vehicle's performance during the race and effectively the difficulty level. The choices are 50cc (easy), 100cc (medium), and 250cc (hard).
Tracks
There are nine tracks in Toy Box Speedway: six Disney, one Pixar, one Marvel, and one Star Wars. These can be selected individually in any gameplay mode, and can also be selected in sets of three as a Grand Prix in Race or Battle Race (but not Time Trial), where each race must be completed in sequence. Six drivers compete in each race, including one or two players, with the rest consisting of randomly selected Disney Infinity characters driving randomly selected Ground Vehicles.
Grand Prix One consists of:
Grand Prix Two consists of:
Grand Prix Three consists of:
Power-Ups
There are many power-ups that can be used in the game. There are many variations of Vehicle Weapons that can be used, as well as some totally new power-ups. Known power-ups are a simple Speed Boost, variations of Machine Guns and Impact Mine, the Leader Beater (which automatically takes out the leader, the Oil Slick, and even an unnamed power-up that turns all of your opponents' Ground Vehicles into jalopies.[5]
Development
The game was developed by Sumo Digital, the company behind Sonic & Sega All-Stars Racing. The partnership began when John Vignocchi ran into Sumo's president Sean Millard at GDC and told him how much he loved Sonic & Sega All-Stars Racing.
In a later interview, Millard said that while he was a fan of the Disney Infinity games, he always felt that the driving controls were not as responsive as they could be. Thus, the first thing the team at Sumo did for the game was to change the driving controls to make them more responsive. According to Millard, their goal was to make the game so that it played like Mario Kart in terms of controls.[3]
Trivia
This is the first time that players can race characters other than Cars characters in a race; until this point, all racing opponents have been cars.
According to GameInformer magazine, each track will feature what is known as "track stories," meaning that things will change each time you pass them on the track.
Driving into the Cherry Bombs placed along the track on the Wreck-It Ralph track will cause your car to spin out.[5]
On the Frozen-themed track, more snow will pile up the longer you drive on it.
Millard at first was against the idea of a Monsters-themed level, because it was "...not (his) favorite brand," but when the level was completed, he was glad that the team had fought to keep it in.[3]
You will unlock many toys from this game. [8]
Gallery
References
Community content is available under
CC-BY-SA
unless otherwise noted.