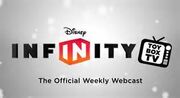 "If you can dream it... you can do it!"
--John Vignocchi and Allison Petrek, at the end of each episode of Toy Box TV
Toy Box TV was a weekly webcast hosted by John Vignocchi and Allison Petrek.[1]
Description
Each episode revealed the Featured Toy Box Winners. Then Allison and John asked a Trivia question, and they show something cool. Then there is the Social Media Spotlight, and last but not least, there is a Tutorial from somebody who works at Avalanche. The latter two were later switched around the time of the release of Disney Infinity 2.0 along with the Toy Box 2.0 Edge added. For 2015, Community Talks were added, where the hosts ask the viewers a question to hear about their opinions. Toy Box Tales was added in the 62nd episode, where there is a Toy Box to download each week. Starting from the release of Disney Infinity 3.0, the tips and tricks have separate videos released on Wednesdays, while the normal episodes are usually uploaded on Tuesdays instead of Thursdays, with videos of the Top 5 Toy Boxes being uploaded on Thursdays.
Episodes
Comic-Con Special Edition
Olaf's In Summer Special
Stitch Sneak Peek
Haunted Mansion Winners
Let's Play Falcon and Loki
More Disney Infinity 3.0 at E3
Toy Box Speedway Sneak Peek
On Location: San Diego Comic-Con
Player's Pick 2015
3.0 Power Discs Sneak Peek
3.0 Starter Pack Unboxing
Inside Out Play Set Unboxing
On Location: Toy Box Summit 2015
New Toy Boxes: Mickey and Squid Wars
Trivia
The most watched episode of Toy Box TV is Episode 70, the Inside Out Play Set Sneak Peek, with over 207,500.[citation needed]
Gallery
For more game related media, see Toy Box TV/Gallery.
References
↑ John's role taken over in the 40th, 41st and 42nd episodes by Patrick Efird, absent in the 53rd episode due to having a meeting with Marvel team members in New York City at the time of the January 2015 nor'easter, along with the 76th episode due to being at San Diego Comic-Con International, and replaced by Justin Asilo in the 85th episode due to being ill, but again taken over by Justin for the 90th episode.
Community content is available under
CC-BY-SA
unless otherwise noted.