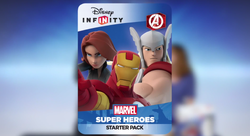 Web Code Cards are cards sold with every Starter Pack, Figure, Play Set, Toy Box Pack, and Figure Three Pack in the Disney Infinity series (with the exceptions of the figures and play sets from Alice in Wonderland and Finding Dory). They were used for unlocking the figure(s) and play set(s) with which they were sold in the mobile and PC versions of the games. On the front of each card is an image of all the characters which the card unlocks; on the back is another image of the figure(s) and a code which unlocks it/them.
Trivia
Because they were released near the end of the lifespan of Disney Infinity 3.0, when the creators knew that the game was ending, the Finding Dory Play Set, Nemo, Alice, the Mad Hatter, and Time were not sold with any web code cards. The digital versions of the game were about to be shut down anyway, so creating a way to unlock the figures in them would only have been a waste of the company's resources.
Gallery
Community content is available under
CC-BY-SA
unless otherwise noted.